REQUEST A DEMO
Book Your Tour of an Enterprise File Data Services Solution Today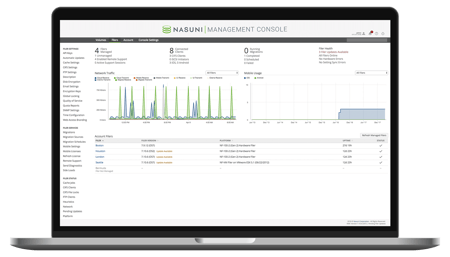 We've developed a file data services platform that fully leverages AWS, Azure, or Google Cloud object storage.
Free of device constraints, the Nasuni File Data Platform unlocks the infinite capacity, durability, and geo-redundancy of this "new disk," ushering in a new generation of file data services for the cloud.
See how the Nasuni File Data Platform enables you to:
Consolidate NAS and file servers
Scale capacity and performance without limits
Maintain high-speed file access at the edge
Accelerate file recoveries - and eliminate backup
Achieve simple, cost-effective archiving - without moving data
Meet cloud-first objectives while increasing security
Synchronize files across locations with high performance
Manage a global file estate with one platform
Recover file shares from a ransomware attack or random disaster within minutes at no extra cost
Schedule your live demo of Nasuni today!
Trusted by Industry Leaders
SAVINGS CALCULATOR
Calculate Your Cost Savings
How much can you save on your current or planned file infrastructure investment by moving to a modern cloud file storage solution? See just how much you can save by using our online estimator.